Builders Risk
Insurance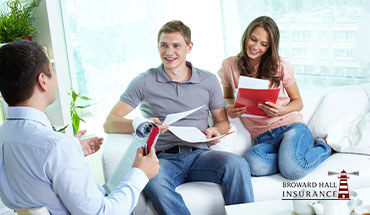 Contact Agent (850) 769-4828
Building your dream home is something that is exciting and rewarding, but at times overwhelming. Broward Hall Insurance Agency is here to add relief to the building process by providing a quality and affordable builder's risk insurance policy for your project. Builder's risk insurance is a type of property insurance that provides protection for buildings that are under construction. It can cover just the structure, or it can also cover any materials on site that are installed or stored.
Broward Hall Insurance Agency is dedicated to meeting the property insurance needs of the construction industry. From custom homebuilders to commercial contractors, we have construction insurance solutions that can provide the unique coverage builders need.


Builder's Risk Coverage

Builder's risk insurance covers perils such as fire, wind, theft and vandalism. It is important to note that most policies do not cover perils such as earthquake, flood or wind unless these are specifically endorsed.


Your policy will only pay for damages up to the coverage limit. The coverage limit must accurately reflect the total completed value of the structure (all materials and labor costs, excluding land value). The construction budget is the best source for determining the appropriate limit of insurance.


It's important to note that builder's risk insurance does not replace the need for liability insurance. Builder's risk insurance will not cover others or their property, such as sub-contractors, tools, equipment or accidents

Builder's Risk Terms

Builder's Risk insurance policies can often be written in terms of three-months, six-months, or 12-months. If the project is not completed by the end of the initial policy term, it can often be extended, but usually only one time.
Contact Us For Free Help
Broward Hall Insurance Agency
Broward Hall Insurance Agency was established in 1957 by Broward Hall. It started as a small business in Panama City and grew over 60 years into a full service agency to serve the insurance needs of individuals, families, and businesses throughout Bay and surrounding counties. As the insurance pros, we are experienced in all types of insurance coverage. From auto, motorcycle, boating, recreational vehicles, and life, homeowners, renters, builders risk, to business, liability, workers comp and so much more.
Our objective is to be honest and fair in all dealings, to be focused on each person and their insurance policies, and to service the needs of our clients as if they were our own family. We establish a close relationship with our clients by assigning a personal service agent to each account. This ensures a high level of consistent care of your policies and makes the management easy on you.
Gary Hall, Sr. is the president of Broward Hall Insurance Agency. After four decades of dedication, Broward Hall Insurance Agency is here today providing the same personalized & professional care that would make his dad, Broward, proud. Our entire team is here for you, so let us know how we can serve your needs.