RV
Insurance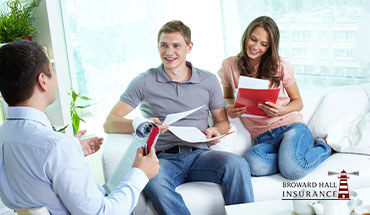 Contact Agent (850) 769-4828
Recreational Vehicle (RV) Insurance can protect your investment from top to bottom. With RV insurance, you can select many types of coverage, including Vacation Liability, Full Timer's, Emergency Expense and more. Your RV insurance policy can also protect your traveling companions and your valuables when you're on a trip. There are many options available and everything is custom-tailored to your specific needs.
Broward Hall Insurance will provide you with the information needed to choose the best coverage for your RV. Keep in mind that RV insurance covers several kinds of vehicles, such as motor homes—including Classes A, B, and C, motor coaches, camper vans, travel trailers, campers, pop-ups, fifth wheels, and toy haulers.


Storage

If your RV will be in storage for an extended period, such as during the winter months, it could be a good idea to review the different options offered with storage coverage. Accidents do happen while your RV is sitting still in storage and the costs involved to repair can be steep.

Full Time

If you will be using your RV as a full time residence, you will want to have a full feature policy that will provide protection to your home, which many RV insurance policies do not cover. It's important to match your RV usage with your RV insurance plan.

Liability

Liability can be defined as legal responsibility for your acts or omissions. So, whether you act irresponsibly or fail to see a stop sign and drive through an intersection, you are legally liable to pay the bodily injury costs, lost wages, funeral costs, and property damage for others involved in the accident. You will also need to pay for your legal defense if you are sued.
Contact Us For Free Help
Broward Hall Insurance Agency
Broward Hall Insurance Agency was established in 1957 by Broward Hall. It started as a small business in Panama City and grew over 60 years into a full service agency to serve the insurance needs of individuals, families, and businesses throughout Bay and surrounding counties. As the insurance pros, we are experienced in all types of insurance coverage. From auto, motorcycle, boating, recreational vehicles, and life, homeowners, renters, builders risk, to business, liability, workers comp and so much more.
Our objective is to be honest and fair in all dealings, to be focused on each person and their insurance policies, and to service the needs of our clients as if they were our own family. We establish a close relationship with our clients by assigning a personal service agent to each account. This ensures a high level of consistent care of your policies and makes the management easy on you.
Gary Hall, Sr. is the president of Broward Hall Insurance Agency. After four decades of dedication, Broward Hall Insurance Agency is here today providing the same personalized & professional care that would make his dad, Broward, proud. Our entire team is here for you, so let us know how we can serve your needs.